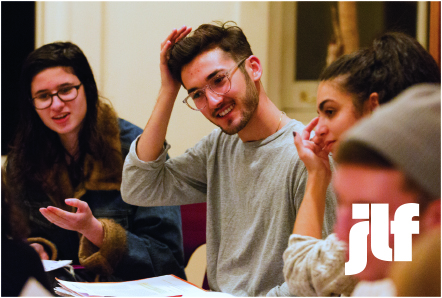 Jewish Learning Fellowship
WashU Hillel's Jewish Learning Fellowship (JLF) is a 10-week experiential, conversational seminar for students looking to deepen their understanding of Judaism on their own terms. We're interested in asking big questions. You know, the big stuff - like:
Who am I?
What communities am I a part of?
What values am I committed to and why?
What are the challenges and opportunities of a close friendship?
How do we disagree with one another? How do we engage in conflict?
How do I heal a broken world when Chem 111 is taking over my free time?
The Jewish Learning Fellowship adds two critical components to Jewish study: It builds a cohort of students within each class who create community, and it teaches classical Jewish texts by drawing on your own life experience and intuition.
We make no claims about the "right" way to practice or not to practice Judaism. Our job is to help you explore the tradition in a safe space and find your own place, on your terms. And, make $200.
This class has no grades & no papers - because we know you have enough homework! Just enjoy great discussions for an hour and a half over 10 weeks, and participate in a special Shabbat dinner during the semester, and celebrate in an hour-long Siyyum (Closing) Graduation Ceremony with the JLF community (find the dates in our FAQ). 
No prior Jewish learning or background is required! All experience levels are welcome. 
Apply below by 9/13. We have limited spots available, and applicants will be interviewed and accepted on a rolling basis - so apply ASAP! 
Have questions? Want to know the requirements for the classes? Check out our FAQ - if that didn't help, email rabbijordan@washuhillel.org.
WashU Hillel's JLF is funded in part by Hillel International and Mosaic United.